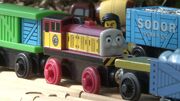 Dart is Den assistent.
Appereances
Season 1: - Lift Bridge (episode), Swagger and Swerves (cameo), Splatter (episode) (cameo), Scruff´s Scaffolding (cameo), Rendezvous with Disaster, Will Power,
Season 2: - Munitions (cameo), Swan Dive (does not speak)
Livery and Basis
Dart is painted red and yellow with white stripes with the Dieselworks logo in both sides of his cab. Is based in 4w Diesel-hydraulic shunter.