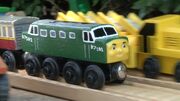 Doc a.k.a "The Ballast Spreader" is unusual looking machine on the North Western Railway.
Appareances
Season 1: - Dodge (episode) (cameo), Buffer Bashing (cameo), Cannon Fodder (cameo), and Conspiracy Theory (stock footage, cameo).
Season 2: - Pummeling Percy, Tag-Team (cameo).
Livery
Doc is painted bright yellow with "Sodor Railway Repair Train" written on both sides in red.