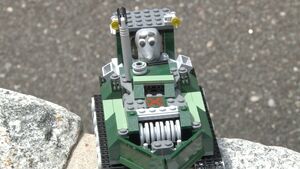 Kurt is a jungle cutter.
Appareances
Season 1: - Lift Bridge (episode) (cameo), Wilbert the Lumberjack and Conspiracy Theory (stock footage, does not speak).
Livery and Basis
Kurt is painted dark green with grey stripes. He is based on a jungle cutter, a machine that  was show in three movies of Indiana Jones.
Gallery