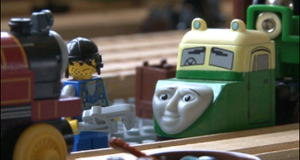 Madge is a snub-nosed lorry.
Appereances
Season 1: - The Old Warrior (cameo)
Season 2: - Serendipity (cameo), Rock-Star (cameo', Mavis and the Tornado, Just Another Wild Goose Chase, Young Tucker (episode), Blunderbuss
Livery and Basis
Madge is painted green with cream linings. She is based on a 1964 Scammel Scarab 6-ton tractor lorry.