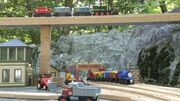 Max and Monty (full names are Maximilian and Montgomery) are two devious and troublesome lorries.
Appereances
Season 1: - The Old Warrior (cameo) and Double Whammy (cameo)
Season 2: - Pigeon Hunting (Monty only, cameo), Breakdown Blues (cameo), Serendipity, Scot-Free (one cameos), Mavis and the Tornado (one cameos), Rock-Star, Blunderbuss (Monty only, cameo) Aura of Menace
Livery and Basis
Max and Monty are painted red with grey dumpers. The two early examples of 4-wheeled 40-ton Mack dump trucks or Euclid dump trucks.