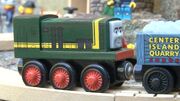 I'm sorry sir it is all my fault.
Paxton, Blunderbuss (first part)
Paxton nicknamed Pax, is a diesel engine.
Appereances
Season 2: - Paxton and Norman, Breakdown Blues (cameo) Munitions, Hibernation, Blunderbuss,
Livery and Basis
Paxton is painted dark green with yellow linings. They're based in a BR Class 08 Diesel, Sidney, Arry, Bert, Splatter and Dodge are members of his class.