Young Tucker is a red tank engine.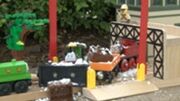 Basis and Livery
Young Tucker is a red Furness Railway Parker J1 2-4-2T with 13 painted on his side.
Appearances
Season 2: Mavis and the Tornado (cameo), Rosie (cameo) Rock-Star (cameo), Munitions (cameo)
He will appear some other time in Season 2, where he will have a nasty accident with George.
Trivia
Young Tucker never had a Wooden Railway model, as he is an original character. In the series, his model is Thomas' painted red, which was painted by the Youtube user Tuckinator15. 
Young Tucker was originally thought to be called Albert, a character that first appeared in the Railway Series book "Thomas and Victoria." Yet, it has been revealed by Enterprisingengine93 that, in fact, his name is in fact Young Tucker.